Add new comment
Bringing Down the House (Delsan-AIM)
So how do you go about bringing down the largest coal-fired power plant in North America? After 40 years of operations, the plant stopped using coal as fuel half a decade ago and was poised to go green by being converted into a solar power generating facility on the site. But first, the site had to be decommissioned and demolished safely, securely and in an environmentally responsible manner. 
That sounds pretty easy, until you realize that this involves bringing two 650-foot (198-meter) reinforced concrete chimneys crashing down while making sure that the public and nearby infrastructures (such as live switchyards and high voltage power lines that serve the Ontario electrical power grid) are not damaged. This requires the services of a skilled team of experts.
Enter Delsan-AIM. In the business for over 20 years and with a myriad of successful decommissions and demolitions under its belt -- ranging from the former Mirabel airport (Mirabel, QC) and Brunswick Mine Site (Bathurst, NB) to the former Shell Refinery (Montreal, QC) and the Bruce Nuclear Generating Station (Tiverton, ON) – Delsan-AIM can handle any project. And when it comes to safety, Delsan AIM is second-to-none.
"There's a good reason our motto is "No one gets hurt,'" states Lorenzo Rapattoni, Vice President of Delsan-AIM. "We never compromise on safety. Ever. Our primary commitment is the protection of our employees, the public and the environment, through an internal system of corporate and employee responsibilities. All the work on site, therefore, is always carefully planned and engineered."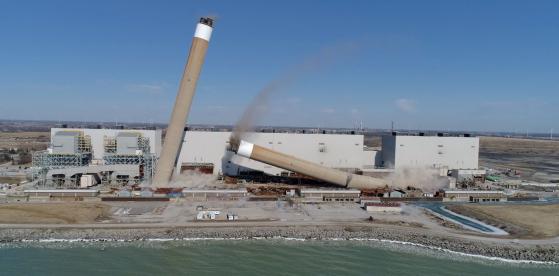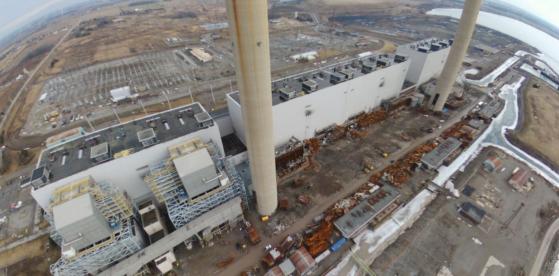 An exercise in expert engineering
The company teamed up with specialists in both structural and environmental engineering to ensure the successful and safe completion of the Nanticoke Generating Station project.
Before any demolition work could begin, the buildings and structures had to be made safe.  How? By ensuring that all services, such as electricity, had been disconnected and that all hazardous materials had been removed and properly disposed of. Environmental consultants were on hand to undertake a final inspection.
As mentioned previously, existing live infrastructure on the project site had to remain undamaged and fully functional. Complicating matters further, the water intake for the Haldimand County Water Treatment Plant was located adjacent to the project site along the shoreline of Lake Erie.
Delsan-AIM implemented various measures to effectively protect the infrastructure from the potential effects of the demolition work. For example, the water intake channel was isolated from site activities and entirely protected using a specially designed floating cover.
And then there were those chimneys. That required a complex blast plan with detailed structural engineering using cutting-edge software to ensure not only the integrity of the chimneys during the preparation phase but also the controlled failure and drop direction. And what a beauty of a drop it was! You can check it out here (the whole video is worth a good look, but you can see the spectacular drop at 9:21 of the video).
Next Steps
There is still a lot to do on the site. The powerhouse is the main building where the electrical generating equipment was housed, along with the associated boilers, coal handling equipment, precipitators, turbines and generators that will be demolished.  Next summer, this colossal powerhouse, which is the size of almost nine football fields, will be brought down.
Eventually, all traces of the coal plant will be gone and an area that once spewed out over 17 million metric tons of CO2 in billows of dark smoke will instead display 200,000 solar panels glinting silently in the sun as they join the wind turbines that dot the surrounding landscape in a new era of renewable energy.