OUR BRAND HITS THE SHOW IN LAS VEGAS
You heard it here first - AIM is attending ISRI's Annual Convention and Exposition in Las Vegas, the largest gathering of metal recycling professionals in the world. For this occasion, the marketing and communications team has put together a whole new branding kit with the objective to dazzle our visitors.
Our last booth was the same one we had for a decade: a bit out-dated with its curved lines and fading pictures. It was time to upgrade to a new look that not only reflects AIM's values and positioning, but also our new brand. We were looking for something clean, sharp and attractive that highlighted our strengths and spoke of our international footprint.
The new brand
AIM has been around for many decades and is recognized for its experience, its strength and its leadership. The company logo is very well known, so the new brand needed to preserve the logo's history and recognition value while projecting a forward-looking, open and dynamic feel.
The new visual identity introduced a unique personality, provided a solid structure for all our lines of business and expressed the passion that drives the brand personality with a clear position in the market. Our colours are the colours of metal – gold, grey and black – along with red to add a warm and positive energy and white to add a light touch of purity.
The new kiosk
We applied the new brand to our kiosk design and came up with an appealing look that would –we think -- make any company selling scrap stop to talk to us.
Specifically, we wanted the kiosk to highlight our competitive advantages:
As a result of our specially-designed trucks, trailers and equipment, and the use of our large-volume rail cars, we can deliver to steel mills, foundries, or shipping ports all over the world and at the lowest freight cost.

As a family-owned Canadian company, we count 50 recycling sites in North America, and over 2,800 employees around the globe, priding ourselves on our ability to offer our large customer base premium prices, our focus on bringing them value and our responsive service.

Our heavy machinery capabilities are extraordinary, and the types of metal we process are legion.
With carefully chosen photographs and text, we think we got the point across. Bravo to the Marketing & Communications Team for this new look. See below the before / after.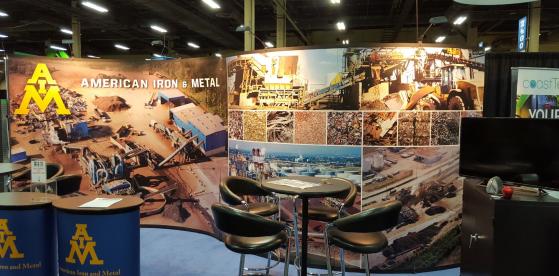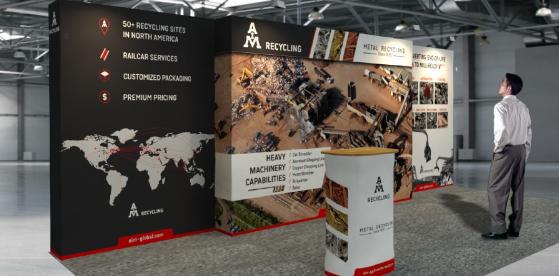 Where to find us
If you happen to be in Las Vegas next week, come check out our new kiosk. Visit us at Booth 2052 near the ISRI hospitality food service area #4 to meet our team of professionals and learn how we can help add to your bottom line.
If you have any questions, call us at 514 494-2000 or send an email to [email protected] . And don't forget to follow us on our social media channels: Facebook, Twitter and LinkedIn .
See you at ISRI 2018!
About AIM
Founded in 1936 in Montreal, American Iron & Metal is a family-owned company, recognized as a world leader in the metal recycling industry. Over the years, AIM has evolved into a multi-faceted organization with successful lines of business that includemetal recycling (AIM Recycling), construction waste recycling (AIM Eco-Centre), manufacturing of solder assemblies (AIM Solder),demolition and decommissioning (Delsan-AIM) and retail auto parts (Kenny U Pull).